Join Copenhagen Merchants Group's sphere
A family of opportunities
Copenhagen Merchants

Copenhagen Merchants (or CM Brokerage) is a large international commodity broker mainly focusing on grains and other agricultural commodities.


Navi Merchants

Navi Merchants is a dry bulk freight provider mainly focusing on the bulk biomass and bulk grain trades in the Baltic, Continent, Mediterranean, U.S.A. and Southeast Asia.

CM Biomass

CM Biomass is one of the worlds largest traders and producers of biomass, with a special focus on wood pellets.

Aarhus Protein A/S

Aarhus Protein produces plant-based proteins, that are used by international food producers in the production of meat alternatives, dietary supplements, bakery products, high-protein bars, etc.

CM Navigator

CM Navigator offers a trading platform that delivers unique insights into the grain and associated freight markets.

Schultz Group

Schultz Group consist of more companies amongst others focusing on shipping, port agency, stevedoring, terminals, etc., covering all major Danish, Swedish, and north German and Polish ports.
Key figures - Copenhagen Merchants Group - FY2022

World of possibilities
As a significant global participant in commodity brokerage and trading, shipping, logistics, terminals, production, and market-intelligence, Copenhagen Merchants Group offers a world of possibilities.

With a company culture that prioritizes personal growth and development, combined with a wide array of business activities, you have the chance to take your career to unprecedented heights.
But worth noting … what truly sets us apart is our commitment to flat organizational structures. Unlike traditional corporations that rely on layers of management, we believe in giving our employees the autonomy and flexibility to make meaningful contributions. So, if your ambition is to climb the corporate ladder and manage managers who manage managers, perhaps a more traditional company would suit you better. But if you're looking for a dynamic and collaborative work environment that empowers you to excel, Copenhagen Merchants Group is the perfect fit.
Culture
It is difficult to describe our company culture – you need to experience it.
But our Culture Ambassador (the Octopus TW Heart) and the Copenhagen Merchants Beliefs and Behaviors (the CMBB) does try to capture the essence of our culture, with elements like Growing Together, Teamwork, Trust, Giving That Little Extra, Having Fun, Sustainability, and much more.
Incremental Entrepreneurship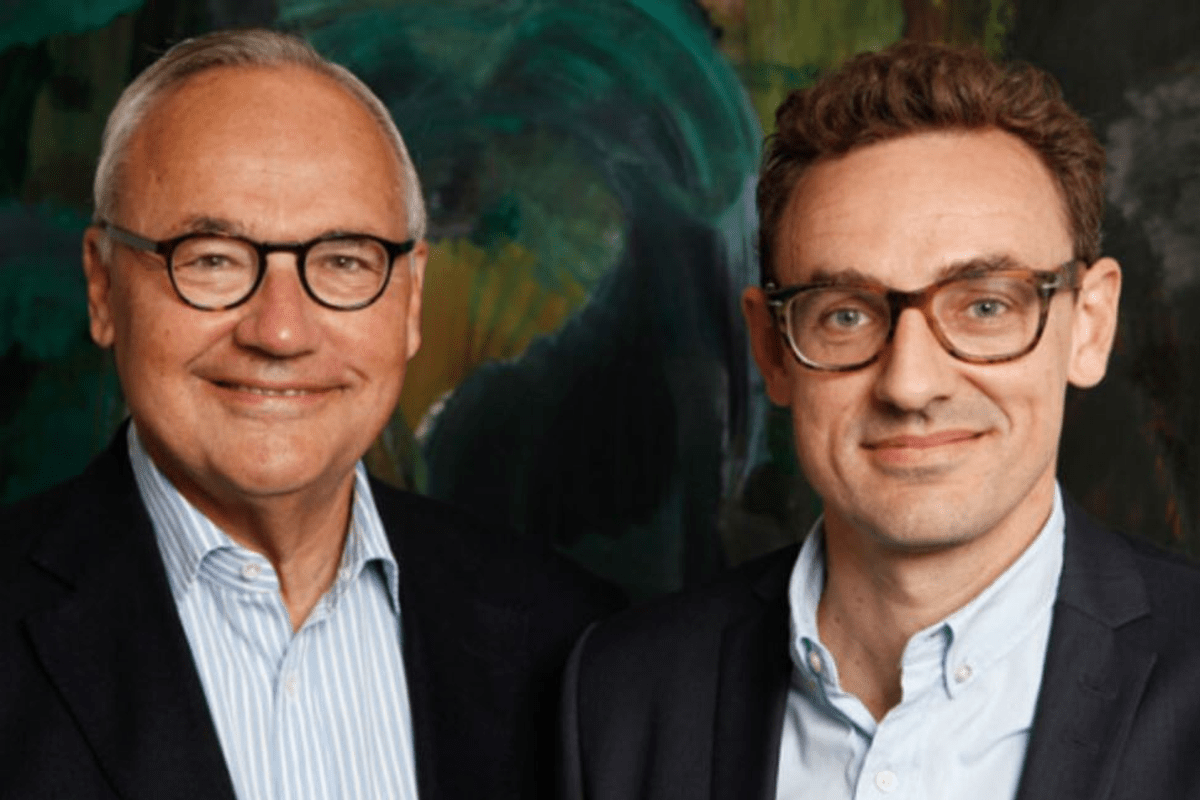 The story of Copenhagen Merchants is one of incremental entrepreneurship. It began in 1977 when Torben Christensen founded the brokerage company - Copenhagen Merchants. After nearly four decades of successful leadership, Torben retired in 2016 but still remains involved at the board level.
In 2003, Torben's son Simon Christensen took over as CEO of Copenhagen Merchants, continuing the family legacy of entrepreneurial spirit and innovation. With the support of his sister Julie, Simon has since grown our company into a thriving business. Today, they own the majority of Copenhagen Merchants and continue to lead with vision and determination.
... bits and pieces of the history
1977
It all began
Torben Christensen starts Copenhagen Merchants (CM) from the basement of his private home.
1978
CM into chartering
CM hires the first dedicated employee for chartering.
1984
CM into terminals
Kalundborg Bulk Terminal is established together with Fredericia Shipping.
1986
CM starts strategic partnership with Fredericia Shipping
Fredericia Bulk Terminal is established together with Fredericia Shipping.
1999
CM going abroad
CM buys ECS in Hamburg, Germany, moving into the area of inspection.
2000
CM starts ECS in DK
CM expands the business within inspection, establishing ECS in Aarhus, Denmark.
2002
CM into Biomass
CM starts handling wood pellets.
2008
CM takes over 50% of Schultz Shipping
Together with Fredericia Shipping CM buys Schultz Shipping, each with a 50% ownership.
2009
CM Biomass estbl.
CM Biomass Partners A/S is established, CM now also trading biomass - primarily wood pellets.
2011
CM invests in Gdansk, Poland
Together with Malteurop, CM establish Gdansk Bulk Terminal.
2012
CM goes East
CM starts broker office in the capital of Estonia, Tallinn.
2013
CM invests in Aarhus (plant proteins)
Together with Fredericia Shipping CM starts Aarhus Bulk Terminal - in this also the adventure of producing plant based proteins.
2014
CM invest in Nakskov
CM establish Nakskov Bulk Terminal together with Krinak A/S.
2015
Another Polish adventure
CM establish Szczecin Bulk Terminal together with Viterra.
2017
CM invests in Masnedø
Together with DLG, CM plans and invests in Masnedø Bulk Terminal - 2020 being the first operating year.
2018
CM Navigator platform is born
CM structurally starts developing the trading platform CM Navigator.
2018
CM goes Swiss
CM opens broker office in Geneva.
2019
CM Biomass invests in pellet production
In a J/V with Steely Lumber CM starts producing wood pellets in Huntsville, US
2020
Aarhus operation getting bigger
CM establish Aarhus Omni Terminal together with Fredericia Shipping.
2021
Navi Merchants established
Navi Merchants A/S is established as its own legal entity.
2022
CM goes Brazilian
CM opens its first office in South Americas - a broker office in Sao Paolo.
2022
CM becomes ship owner
CM invests in its first own ship.
2023 ->
More to come ...
The journey is continuing ...
About Copenhagen Merchants Group
Copenhagen Merchants Group is a second-generation family-owned company. Our company is involved in international commodity brokerage and trading, shipping, logistics, terminals, production and market-intelligence. Some of the companies in the group are: Copenhagen Merchants, Navi Merchants, CM Biomass, CM Navigator, Aarhus Protein, Schultz Shipping, , etc.
A few key figures & facts as of 2022
group turnover: EUR 200,000,000
equity: EUR 100,000,000
net result: EUR 22,000,000
employee retention rate: More than 95% stay long term
balance: EUR 130,000,000
nationalities: More than 20 worldwide
company color: Racing green
# employees: More than 300
company entities: More than 70 company incl. J/V's worldwide
country presence: More than 15 worldwide
culture ambassador: TW Heart – the octopus
Already working at Copenhagen Merchants Group?
Let's recruit together and find your next colleague.